DataStream Data Informs Assessment of Freshwater Health
The recently released WWF Canada 2020 Watershed Reports provide a national assessment of Canada's freshwater. WWF Canada was able to efficiently draw on community based water monitoring (CBWM) data thanks to DataStream.
Although the report shows the health of 60% of watersheds is unknown, there has been significant progress since the last assessment in 2017, with ten additional watersheds receiving a score.
DataStream is designed to support communities driving the data-to-policy cycle (see below) so it is exciting to see that DataStream is playing a role in improving data access and putting community generated data on the map, so that it can be used in regional and national scale assessments and ultimately support decision-making.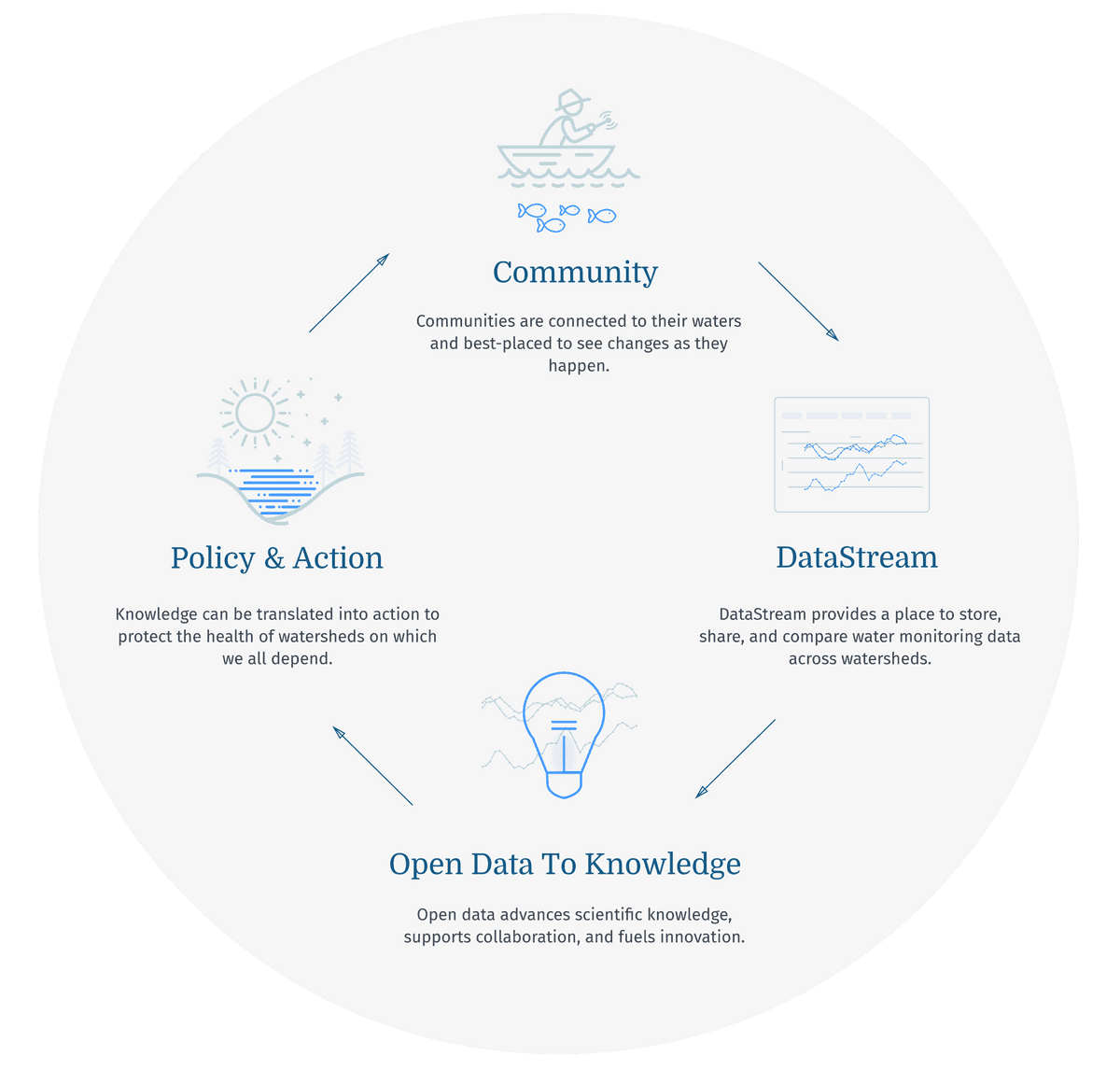 One watershed that was data deficient in 2017 but where there is now enough data to provide a score of Good is the Lower Mackenzie Watershed. These data gaps were filled thanks to the work community-based monitoring groups who uploaded their data to Mackenzie DataStream. 
The success in obtaining a water quality score in this [Lower Mackenzie] watershed is due almost entirely to community-based monitoring group members gathering critical information about the health of their shared waters and to Mackenzie DataStream, an open access database.
WWF-Canada (2020)1
One of the many CBWM organizations that DataStream works with is Water Rangers, a non-profit organization connecting people to their local waterways through citizen science. After the 2017 WWF Watershed Report identified that 100 out of 167 Canadian sub watersheds were data deficient for water quality Water Rangers developed a project to help fill this gap, working with local communities and WWF to build capacity for water quality testing.
The community based water-monitoring project saw individuals and groups from across Canada testing waterways using a simple citizen science toolkit and successfully built water-quality testing capacity in data-deficient sub watersheds, with the resulting data published on DataStream.
Better data supports better decisions and collaborations and system integrations, including between DataStream and Water Rangers, allow data deficiencies to be addressed – giving us a fuller understanding of watershed health across Canada.
Such integrations made it easy and efficient for WWF to access water quality data, saving a significant amount of outreach and data formatting time when compiling the Watershed Reports – a testament to the power of integrated systems, open data and accessible data in harmonized formats.
The Watershed Reports emphasize the value of open data – a key principle guiding DataStream's work - and the value that Atlantic DataStream brought to the assessment of the Maritime Coastal Watershed, noting data "is more accessible to communities, scientists and decision-makers and will play a critical role in filling data gaps and advancing evidence-based decision-making that ensures waters remain healthy for generations to come."
The report's recommendations set out actions to help give us a clear understanding of watershed health and include increasing support for community-based monitoring. Noting the incredible impact of groups including DataStream partners Atlantic Water Network and the Lake Winnipeg Foundation WWF states "CBWM data must be recognized as relevant and of sufficient quality to inform decisions".
Additional recommendations that align with DataStream's work include respecting data standards and notably, investing in large-scale and standardized models and data hubs. 
The emergence of standardized data hubs and open databases since 2017 has had positive impacts on the Watershed Reports assessment process. Having as much data as possible for a given region in a single source makes large-scale assessments easier and less time-consuming. By allowing multiple data sources, like The Gordon Foundation's DataStream, these data hubs also lead to more democratic and accessible water management.
WWF-Canada (2020)1
Although there is still much work to be done to fully understand the health of our watersheds, the Watershed Reports demonstrate the need for consistent water monitoring and coordinated water data management across Canada, and the central role of community based water monitoring, citizen science, and open data in addressing freshwater challenges. 
1Source: WWF-Canada. 2020. 2020 Watershed Reports: A national reassessment of Canada's freshwater. Paquette C. Hemphill L. Merante A. Hendriks E. World Wildlife Fund Canada. Toronto, Canada.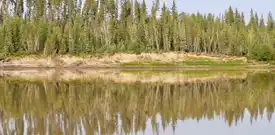 DataStream's visualization tool enables users to apply national water quality guidelines to datasets. Some key guidelines used by DataStream include the Canadian Water Quality Guidelines for the Protection of Aquatic Life,  which are national standards set by the Canadian Council of Ministers of the Environment (CCME). These guidelines provide recommended ranges for some of the physical, chemical and biological characteristics that are commonly monitored in rivers, lakes, and oceans.
Keep Reading

National Water Quality Guidelines on DataStream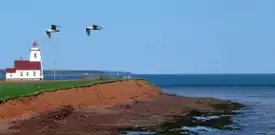 For the Prince Edward Island Watershed Alliance (PEIWA) the benefits of being based in a small province are clear. "We can be really interconnected, and we can facilitate working together" explains Angela Banks, Project Manager at the Alliance, "when it comes to data management and equipment sharing and stuff like that it's been really, really helpful to have that umbrella organization." 
Keep Reading

Community Based Monitoring in Action – The PEI Watershed Alliance