Kicking Off Atlantic DataStream in Halifax! June 5-6, 2018
Written by Corrigan Hammond
Atlantic DataStream kicked off on World Environment Day (June 5, 2018) with a two-day conference and celebration in Halifax, NS. More than 100 community-based water monitors joined us from across Nova Scotia, New Brunswick, Prince Edward Island and Newfoundland and Labrador. Join the  Atlantic Water Network Community Hub  Facebook Group to connect with conference attendees.
We don't yet fully understand the impact that human activities and climate change are having on watersheds across Canada. But we do know that communities are connected to their waters and are best-placed to see changes as they happen.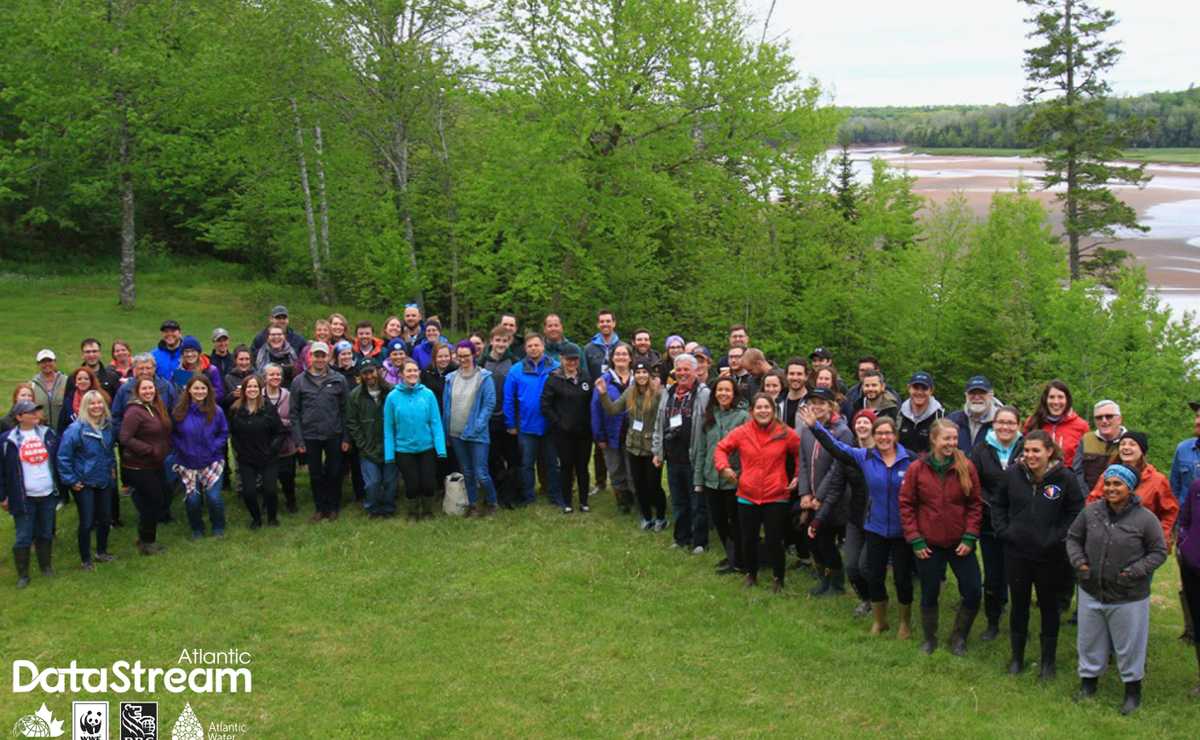 Across Canada, community and local organizations are coming together – along with government and academic partners – to monitor and protect our vital watersheds. Atlantic DataStream is a powerful open-access, online platform for sharing information about regional freshwater health. It simplifies collaboration by helping these groups access, store and share data from watersheds across Atlantic Canada in one easy place.
Our June 5-6 Kickoff was as much about helping community-based water monitoring groups understand DataStream's uses and potential as it was a celebration of their incredible and inspiring work.
We learned the story of DataSteam from the program's founding and regional partners : The Gordon Foundation (  presentation  ), Government of the Northwest Territories (  presentation  ), Atlantic Water Network (  presentation  ) and WWF Canada (  presentation  ).
We heard from Arash Shahsavarani and Denis Parent at Environment and Climate Change Canada (ECCC)  about why the Federal Government is moving towards an open-data model and how the ECCC is reaching new audiences through DataStream.  View their presentation here.
Ken Paul from the Atlantic Policy Congress of First Nations Chiefs Secretariat presented about Treaties, Traditional Land Use and AAROMs.  View Ken's presentation here. Ken included two recommended books in his presentation:  Protecting Indigenous Knowledge and Heritage   by Marie Battiste and James Sa'ke'j Henderson and   Chief Kerry's Moose: A guidebook to land use and occupancy mapping, research design and data collection   published jointly by the BC Indian Chiefs and Ecotrust Canada.
Approximately 80 Kickoff attendees joined Mi'kmaw Conservation Group for a water monitoring field trip on the Shubenacadie Rive  r halfway between Halifax and Truro. The field trip included a DataBlitz and opportunities for one-on-one learning with DataStream platform experts.  Full outcomes from the group sessions will be published soon.
We gained hands on training in common water monitoring equipment from our friends at Hoskin Scientific. Videos of their training sessions will be shared later this summer.
And we invited DataStream platform experts at The Gordon Foundation and project partners and collaborators at Atlantic Water Network and WWF-Canada to run workshops  about how community groups can best take advantage of this powerful platform – which is free, doesn't require passwords or require software installation.
Because Atlantic DataStream is still in beta-testing mode (  which you can read about here  ), the platforms different functions and capabilities won't be fully operational until fall. This summer we'll be helping you prepare by sharing videos, blogs and other fun information about DataStream and events like this one.
To learn how to share your water quality data on Atlantic DataStream, please email Lindsay Day at lindsay@datastream.org
Atlantic Water Network has funding to purchase new equipment for loans through its Equipment Bank program – if there is something that would make your data collection easier or improve your program, please contact Emma Wattie to let her know!
 Atlantic Water Network is offering support to help CBM organizations get water samples analyzed by accredited labs in their local areas.  Take this survey to qualify for the support.   https://www.surveymonkey.com/r/2DYH8QZ
Speakers and presenters joined us from every corner of Canada – some coming from as far away as British Columbia, Alberta and the Northwest Territories. A massive thanks to our presenters including:
·        Don Julian (  Confederacy of Mainland Mi'kmaq  )
·        Emma Wattie (  Atlantic Water Network  )
·        Graeme Stewart-Robertson (  ACAP Saint John  )
·        Carolyn DuBois (  The Gordon Foundation  )
·        Elizabeth Hendriks (  WWF-Canada  )
·        Gila Somers (  Government of the Northwest Territories  )
·        Arash Shahsavarai (  Environment and Climate Change Canada  )
·        Ken Paul (  Atlantic Policy Congress of First Nations Chiefs Secretariat  )
·        Aislin Livingsstone (  The Gordon Foundation  )
·        Kat Hartwig (  Living Lakes Canada  )
·        Angela Douglas (  PEI Watershed Alliance  )
·        Emma Kinley & Sarah MacLeod (  Bluenose Coastal Action Network  )
·        Amy Weston (  NSLC Adopt-A-Stream  )
·        Donna Carroll (  NunatuKavut  )
·        Rémi Donelle (  Shediac Bay Watershed Association  )
·        The Mi'Kmaw Conservation Group (  Mi'Kmaw Conservation Group  )
·        Megan Thompson (  Management and Solutions in Environmental Science  )
·        Lindsay Day  (  The Gordon Foundation  )
·        Natalia Lecki (  Hoskin Scientific  )
·        Simon Mitchell (  WWF-Canada  )